Hello all, Emily here. There seems to be more and more Christmas activities that are planned in Paris each year, so David asked me to put together a selection of my family's favorites. Our tree is already up and wherever you are in the world – we're wishing you a happy holiday season!
Things to do in Paris at Christmas
Without the celebration (and decorations) of Halloween or Thanksgiving in Paris, it is easy to forget the rapid approach of Christmas in France. Decorations don't tend to go up as in Paris, as they do elsewhere, but when they do arrive, it's often overnight, and with style. By December 1st, you'll never be far away from a vendor selling fresh, pine-scented Christmas trees. Wine shops, épicieries (specialty food stores), butchers, and pâtisseries are filled with champagne, gibiers (game), foie gras, macarons, chocolates, and marron glacés (candied chestnuts), as locals stock up for the feasts ahead.
The French observe many wonderful traditions over the festive period with a strong focus on the family, taking time to reconnect with them, as well as close friends, during the break. Below is a selection of things my family enjoys during the festive season. I would love to know what your favorite festive Paris experiences are in the comments.
– Emily
1. Christmas Lights
There are wonderful Christmas lights strung up all over Paris but as far as department store windows go, the ones at Galeries Lafayette never disappoint. We will be heading there to visit Santa later this month, who's installed himself on the 5th floor. My favorite lights, however, are the floating Christmas trees at Le Bon Marché. Incredibly chic, and less-crowded, they're the perfect excuse to visit the La Grande Épicerie for all your Christmas food treats. The pâtisserie section here is amazing and you can pick up almost anything, from a chestnut stuffed guinea fowl to an extravagant Bûche de Noël (yule log), in addition to all the regional French cheeses you can carry.
2. Ice Skating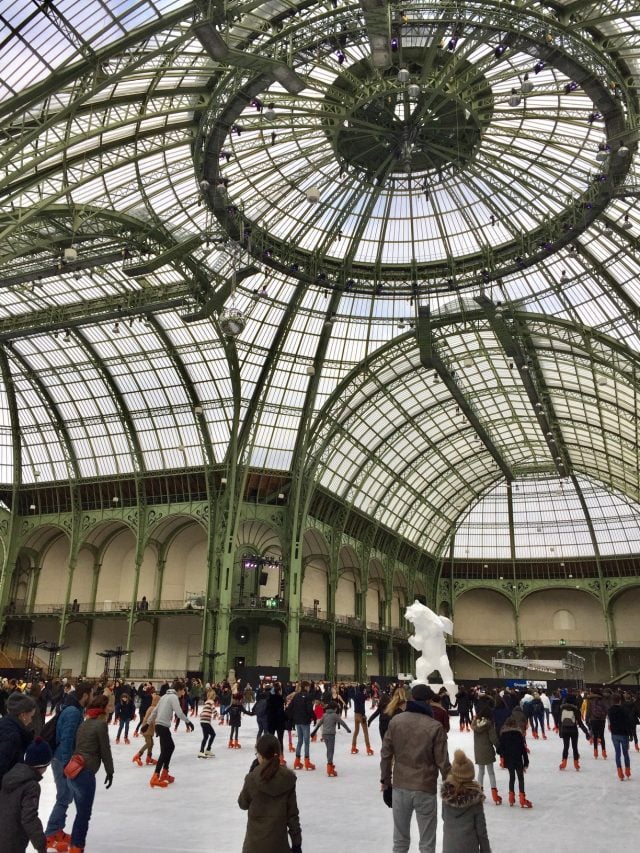 There is no shortage of ice-skating rinks across Paris in winter, from the biggest rink in the world, to skating at some of the outdoor Christmas fairs. This year however the bar has been raised – literally. At Galeries Lafayette and on top of La Grande Arche at La Defense, you can skate above the skyline on top of the arch, which anchors the west end of Paris and (if you are as wobbly as I am on skates) feel safe knowing that the view is the real star of the show. Over in the 'Paris fantasy' department, the Katara Suite at the Peninsula Hotel will feature an ice rink on its private rooftop terrace…which can be yours from €18,000 per night! The one at the Galeries Lafayette, however, is free.
3. Concert Series at Sainte-Chappelle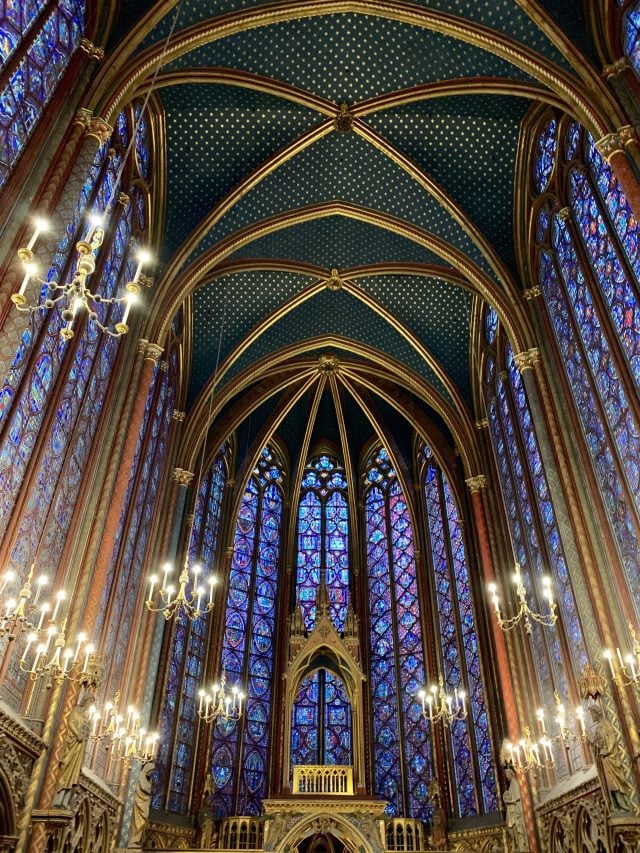 With some of the most impressive stained glass windows in the world, Sainte-Chapelle is a hidden gem tucked away behind the Palais de Justice (Courts of Justice). It's so hidden, in fact, that it took me over 4 years to visit. (And it's only a 5-minute walk from my apartment.) It is difficult to accurately describe how magnificent the windows are, which stretch from not far from the floor, to right up to the ceiling, and I hope you will enjoy them as much as I do. During my first visit, I was delighted to see that they hold charming classical music concerts regularly, in such a beautiful space. Further information can be found here and you can make a reservation here.
Tip: I usually buy tickets at the little ticket office to the left of the chapel a few days in advance.
4. Champagne Tasting
I am a big fan of a cruise up and down the Seine on the big flat tourist boats (as any friend who's come to stay with me will attest) and think it is the perfect way to see many of Paris' famous landmarks. French company Ô-Chateau offers a 1-hour champagne cruise, where you can sit in the huge bay windows at the front of the boat, as it departs by the Eiffel Tower, and taste 3 different champagnes under the guidance of an English-speaking sommelier. This cruise is available to book all year but as champagne is so closely tied to French holidays and fêtes, it feels extra special to do it with friends, or loved ones, over the holidays.
More information available here.
5. Hot Chocolate from Angelina
Angelina is famous for its chocolat chaud à l'ancienne (old-fashioned hot chocolate), so rich and thick they serve it with a glass of water, for novices. The café on rue de Rivoli is a truly elegant experience, but it's often crowded with a long queue snaking out the door. Locals who want a festive fix know to grab a take-away cup outside, which you can take with you on a frosty walk through the beautiful Jardin des Tuileries, just across the street. If you are lucky you may even get some snow!
6. Christmas Fair in the Jardin des Tuileries
Those who want to pile on the festive cheer can follow up with a mulled wine, which is available at many cafés across Paris at this time of year, but also at the Christmas market in the Jardin des Tuileries. Open until January 5th, there are rides, gifts (French craftsmen and designers from Paris' Chamber of Commerce perform demonstrations), roasted chestnuts and other winter delights. There are Christmas markets all across Paris but this one is our preference as it's in a park with lots of leeway for strollers and kids to run around. It takes place every day, beginning at 11am.
7. Indulge in Festive Food
There are numerous places to eat fondue in Paris but for the extra-cozy mountain vibe head to Brasserie Auteuil (78 rue d'Auteuil, 75016 Paris). For the second year in a row the Brasserie has transformed its rooftop into a temporary ski resort. Winter themed cocktails, a ski gondola and ice-skating await, with fondue on Thursday nights. Or you can make Swiss fondue at home with David's recipe, if you just want to snuggle up and stay home.
And until March 2020, you can dine under a Bulle Parisienne (Parisian Bubble) on the terrace on the Eiffel Tower's first floor. The ephemeral, transparent dome can accommodate 80 people and is open for breakfast, lunch and dinner, or wine-tastings. These tastings are complemented by the exhibition of a temporary wine cellar next to the dome. Grapes from a vineyard near Paris are vinified there, at a height of 187 feet (57 meters). Take the opportunity to discover the authentic facilities – tanks, barrels, and casks – necessary to make wine, as well as learn about the different techniques and stages of winemaking.
More information available here.
8. Oysters
All over Paris in December until after Réveillon (New Year's Eve), oyster vendors pop up on street corners and sell fresh huîtres (oysters) either to eat then and there, by the dozen (or kilo), or in little wooden crates to take home. At certain places, they'll even open oysters for you, in case you want to bring them back to your place for a snack. Oysters are traditional for both Christmas and New Year's Eve, with half of all French oysters consumed over this short period. (Note that at many outdoor markets in the winter, oyster vendors sell reasonably-priced plates of a half-dozen freshly shucked huitres with a lemon wedge and a glass of brisk, cold white wine alongside.) I have fond memories of discovering the tradition of fresh oysters in France and return each year to the Marché couvert des Enfants Rouges to pick up our oysters for entertaining over the festive season.
9. Light Festival
Until January 19th, the Jardin de Plantes (well worth a visit any time of year) will again be illuminated by colorful lanterns and incredible giant luminous sculptures. Not specifically Christmas-themed (unless flamingos are usual Christmas decor where you live?) but a really wonderful experience. In 2019 the theme is 'The Wonders of the Oceans' and as you wander the pathways of the Garden and the ménagerie (with the natural soundtrack of the zoo animals' nocturnal sounds), as an ecological gesture, your attention will also be drawn to the fragility of our oceans.
Booking in advance is absolutely necessary and can be done here.
10. Donate to Charity
We strive each year to cut back on unnecessary excess over the holiday season and also donate annually to this charity. The Restaurants du Cœur (literally Restaurants of the Heart, but meaning Restaurants of Love), commonly known as the Restos du Cœur, is a French charity set up by beloved comedian Coluche in 1985. They distribute food packages and hot meals to the homeless, those with low incomes, and others in need. The association also helps people to find housing and supports similar projects. The goal of the founders was to give away 2,000 to 3,000 meals per day. 8.5 million meals were distributed during the first winter when the organization began their mission, and in 2018, 130 million meals were served.
---
And if you're looking for some more Christmas ideas…
– Christmas in Paris (Conde Nast Traveler)
– Where to Eat in Paris on Christmas (HIP Paris)
– Paris Restaurants Open During the Holidays (Paris by Mouth)
– Noel in Paris (David Lebovitz)
– Christmas in Paris (Secrets of Paris)
– Ice Skating in Paris (Discover Walks)
– Christmas Markets in Paris (Paris Info)
– Christmas and New Year in Paris (Paris Info)